Here's some quick motivation for you (before jumping into the details).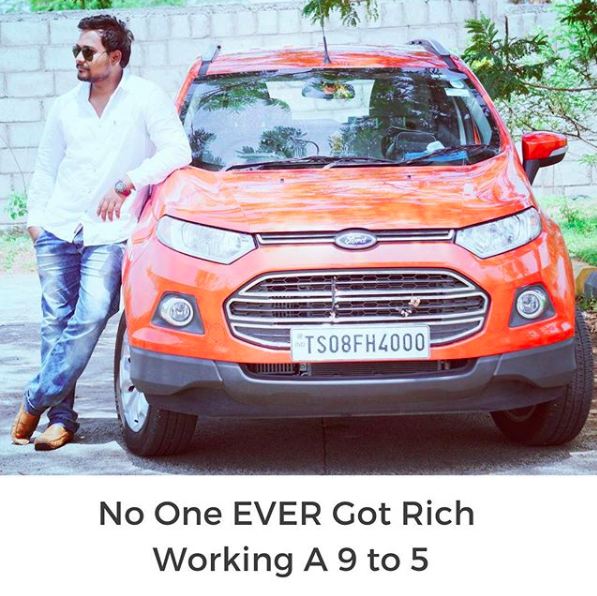 Are you curious to find out how it feels like after blogging for 7 long years?
Do you want to learn some of the biggest blogging lessons that you can't find anywhere else? You're in the right place!
Hey buddy, my name is Rahul Kuntala, say hello in the comment section at the end of the post and welcome to my blog Learn Blog Tips (if you're new here).
I launched this blog on 24th January in 2012 when I was doing my final year graduation in computers. I took my friend's help to get hosting from HostGator (you know doing international transactions such as buying a domain or hosting was a big deal in 2012).
2012 to 2018 – 7 long years (okay, technically 6 1/2 years)
Since 2012, I'm making a living from online. I never made any penny outside of blogging during these 7 years.
I never went for any job and only dependent on blogging to make money.
I don't want to reveal how much I make in a month from blogging (for obvious reasons), but here are few of the things that blogging had bought me.
Ford EcoSport (top end version)
Royal Enfield Classic 350
All kinds of Apple products (Air, iPhone, iPad…)
Yamaha FZ (my first bike in 2012)
Lots of DSLRs (I'm a fanatic)
Luxurious trips allover India (I love traveling)
Above all, FREEDOM to work from anywhere :)
So if you're someone who's interested in taking a career in blogging or digital marketing, this is a must read where you'll find out some of the eye opening lessons.
Quick note: This is kind of a motivational post which goes live every Monday where I'm not going to focus on SEO but purely giving you some quick motivation, new ideas about making money online, powerful selling tips etc and I'm gonna call it "Rahul's Treasure Chest" (played Temple run?).
So let's now talk about some of the big takeaways from blogging including what to avoid as a blogger to build a profitable blog in the long run.
Lesson 1: Stop trading hours for dollars
There's a particular reason why I put this #1 in the list. Don't offer services where you need to trade hours for dollars. These include;
Content writing services
Web designing
Blog coaching services and so on
Yes, all the above strategies work like a charm but in the long run, they are not lucrative and you'll hate yourself for choosing them.
So what can you do instead?
Find passive income sources to make money from your blog. Passive income sources such as;
Affiliate marketing
Selling your own products (eBooks, plugins, themes or anything)
Offering premium membership courses and so on
Passive income sources take some time for you to monetize your blog. But once you start making money from these sources, you'll be making money even while you sleep, booze or watching your favorite TV show.
Think again. What do you want?
Do you want to put a lot of time upfront and make money even while you sleep? Or do you want to work forever to make money from blogging?
That concludes my biggest lesson (which is also one of my biggest mistakes where I offered content marketing services for years and eventually stopped writing for my own blog!): stop trading hours for dollars.
Never go for them if you want to take blogging or digital marketing as a career.
Lesson 2: Make money from day 1
So when should you start making money from your blog? Should you wait until you get 1000 visitors a day or until you get your first 1000 subscribers or [insert some bullshit reason]?
There's no perfect time.
Stop waiting for the perfect day to make money from your blog. If you're really serious about making money from blogging, come up with ideas to make money from day 1.
Did you know that 81% of the bloggers never make even $100 from their blogs? Yes, that's true according to a research done by Problogger.net and if you're desperate about being in that latter 19% of people who are making decent income from blogging, start treating your blog as a business.
That's when you'll start spending money.
Here's the funny truth about blogging: it takes money to make money.
If you're looking for free lunches or beers, you're never going to make any money.
Stop looking for those nulled themes or free tools to install on your blog.
The moment your mindset changes from "I've to put money or time to make money online" is the moment your blogging life changes for better.
So how do you make money from day 1?
Well I've plenty of ideas but I can't share all of them with you because they're not tested yet (of course some of the ideas are proven to help you make money blogging from day 1 such as offering services, 1 on 1 coaching etc). In the end, you've got to figure it out.
Hustle hard. Find ways. Sneak into your competitors websites. Make money.
Lesson 3: Find a money making blogger and start working with him
The simplest yet most powerful way to learn how to make money blogging is this: find someone who's already making decent income from online and offer your services for free.
These free services include;
Creating content for them
Managing their day to day blogging tasks (such as social media posts, comments etc)
Helping them get better SEO rankings, links and so on
The only caveat: find "genuine money making bloggers". There are so many "so called blogging gurus" who say they earn $10,000+ a month but don't create even one blog post that's worth following.
Here's what you can do next.
Find a blogger who you think is genuinely making money and email him saying that you want to work for free and in return you want to get mentorship from him. Most people will gladly accept it if you're good at what you want to offer (i.e writing, SEO, designing etc).
You can even mail me at kuntalarahul9@gmail.com (with the subject: I want to work for you) and mention what you want to offer. In return, I'd be glad to help you building a profitable blog in the long run!
Lesson 4: Get rejected A LOT!
I still remember the days where I wrote guest posts only for small blogs and never even sent email pitches to top sites in marketing industry.
Do you know why?
I got terrified by the idea of getting turned down or ignored or being laughed at and never sent any email pitches related to guest posts on authority sites or collaborations with top bloggers.
If you're also one among them, don't fear rejection and embrace your fear.
So how can you embrace the fear of rejection?
Get rejected. A LOT. Go to a coffee shop, ask for a 10% discount on your bill. They'll say no. You'll come down to earth. Do it regularly in other places too. You'll learn getting rejected is not a big deal. You'll try more and get more. It'll be a lot of fun in the end.
Lesson 5: There will be a lot of distractions on your way to success. Your success depends on how you deal with them!
Let me tell you one thing honestly: once you start earning some serious money from blogging (let's say, $2000 or even more every month), your mind tells you to buy that Harley, Audi, BMW, get a new flat and what not?
Distractions.
I can talk about it for hours.
When you start making money from blogging, you'll get distracted with "compulsive buying". You'll buy all those things that you're craving for (Macbooks, DSLRs, cars, beers and what not?).
Here's where your success depends on how you deal with those distractions.
Ohh and did I forget to mention online distractions like Facebook, Instagram, YouTube etc?
Blogging is hard, you know. It's like not getting tempted when you come across Sunny Leone (without clothes) ;-)
Let me know what you think about the post in the comments below!