Are you searching for the Cloudways free trial for 2023? You're in the right place.
Cloudways is one of the popular managed cloud hosting platforms that offer affordable hosting services.
Nearly 600,000 websites are powered by Cloudways, and it offers 24/7 real-time customer support from experts.
Cloudways at a glance:
600,000+ WordPress Sites Hosted
120,000+ Active Servers
73 industry-leading Net Promoter Score (NPS)
Founded in 2011
Offers 35 data centers across the world
Are you in a hurry? Use the following link to grab Cloudways free hosting trial.
Claim Cloudways FREE Trial
(No credit card required)
How to Get Cloudways Free Trial Without Credit Card?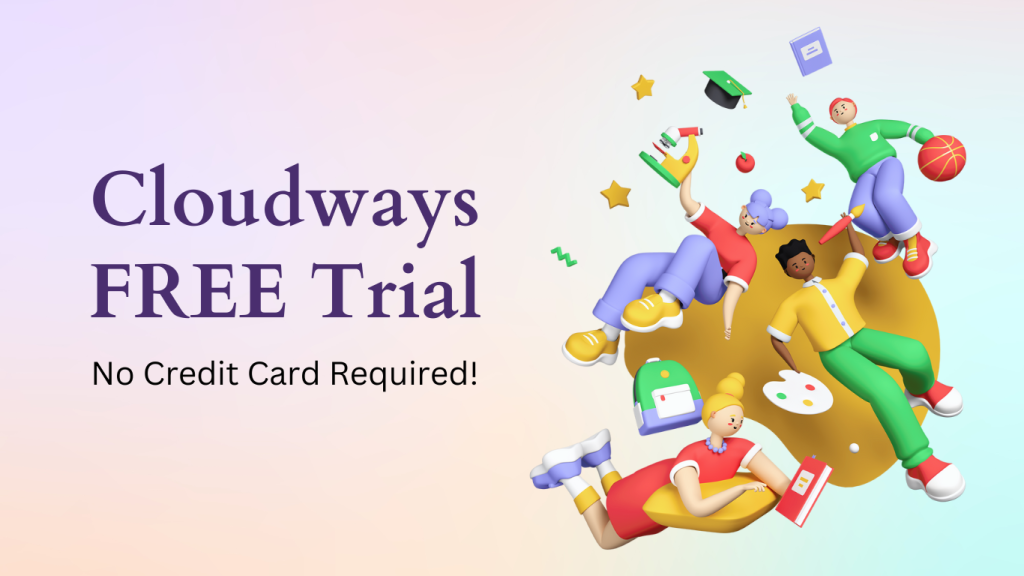 Step 1: To claim your Cloudways free trial, click this offer link and click on Start FREE button, as shown below.
Step 2: Once you click on the "Started FREE" button, you'll be asked to create a FREE account on Cloudways which looks like this;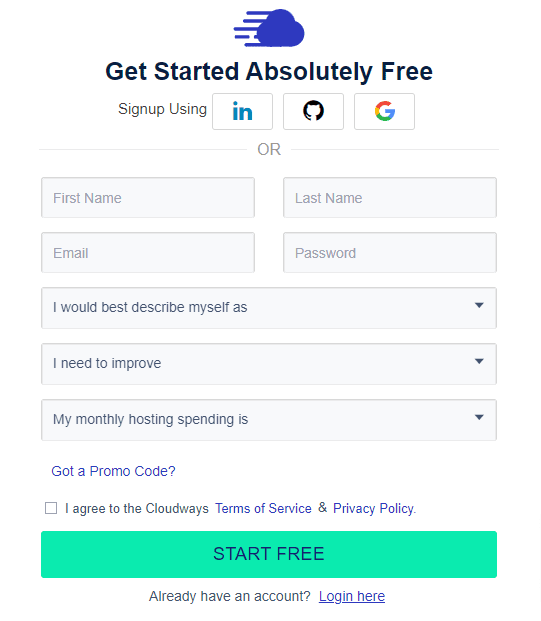 As you can see above, you can sign up for free using your LinkedIn, GitHub, or Google account.
Step 3: Once it's done, you'll be asked to verify your email.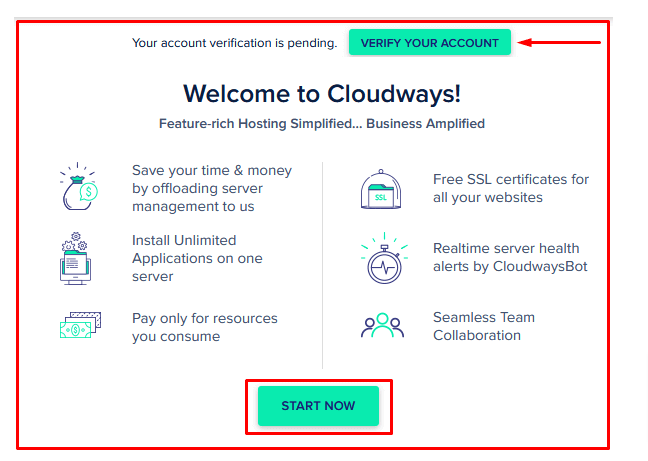 Simply log in to your email account and verify your email. In a few cases, you'll also need to add your phone number to verify your account.
After verifying through email and phone, your Cloudways FREE hosting account will be activated instantly.
Step 4: Once the verification is done, click the Launch button to launch your cloud managed server.
Here's what it looks like;
That's it, you've successfully claimed your Cloudways free trial that you can use for three days from account activation.
What is Cloudways Free Trial?
Cloudways free trial allows you to try the Cloudways hosting services FREE for three days without a credit card.
This free trial helps you try their hosting services at no additional cost.
If you find their hosting useful, you can continue with their hosting services by subscribing to any of their cloud hosting services. If not, you can cancel it, and you won't be charged (as you'll NOT be using your credit card details!).
So there's NOTHING to lose.
During your Cloudways free trial, you'll get 100% access to all their hosting features for FREE.
You can host your site on FIVE cloud servers, including DigitalOcean, Linode, Vultr, Amazon AWS, and Google Cloud.
So what are you waiting for?
Claim Cloudways FREE Trial
(No credit card required)
Cloudways Pros & Cons
So what are the pros and cons of using Cloudways hosting? Let's find out.
Pros:
Access to a website staging environment
Free website backups
Free SSL
Free website transfer
Unlimited Apps
24/7 real-time monitoring
Access to 5 Cloud Providers, including DigitalOcean, Linode, Vultr, Amazon AWS, and Google Cloud
HTTP/2 enabled servers
SSH and SFTP access
Built-in advanced cache and Cloudflare (CDN)
24/7 real-time expert support
Offers a free web hosting trial without a credit card
Cons:
Cloudways does NOT offer you a free domain with ANY of its hosting plans
FAQs | Cloudways Free Trial
Here are some frequently asked questions about Cloudways free trial and its coupon.
How long is Cloudways free trial?
Cloudways free trial offers a 3-day FREE unrestricted access to Cloudways web hosting services where you can access all its features for THREE days. 
What is Cloudways?
Cloudways is a managed cloud hosting platform trusted by 80,000+ businesses worldwide. Cloudways gives you a choice of 5 cloud providers, including DigitalOcean, Linode, AWS, etc., to host your websites.
How do I get Cloudways for free?
You can grab the 3-day free trial from Cloudways using the following link.
Is Cloudways good for beginners?
Yes, Cloudways is extremely good and easy to use for beginners. It removes the complexity of cloud hosting, and you can launch your website within a few minutes. It also offers 24/7 expert support if you need any assistance during the launch of your site.
Which is the best free cloud hosting?
Here are some of the best free cloud hosting providers to try  in 2023;
– Cloudways
– Kamatera
– Google Cloud
How many websites does Cloudways host?
You can host multiple WordPress websites on one Cloudways server.
Is Cloudways better than Bluehost?
If you're looking for speed and security, Cloudways is MUCH better than Bluehost. But Bluehost's pricing plans are affordable as they start only at $2.95/mo, whereas Cloudways hosting prices start at $10 per month.
Related Resources:
Final thoughts on Cloudways Promo Code 2023
If you search for the best free cloud hosting services, you'll find plenty of options on Google.
But NOTHING comes closer to Cloudways.
Cloudways has an easy-to-use interface and offers excellent hosting features at affordable prices.
Make sure to grab the Cloudways free trial 2023 coupon for three days and see if it works for you. You don't need to enter your credit card details either to grab Cloudways promo code.
Have any questions? Let us know in the comments.