Do you know how to get first page rankings on Google? Are you looking for the best off page SEO techniques that are proven to work in 2023?
Hands down, everyone wants to get more search traffic.
More website traffic = More money
Right?
Did you know that a data from Moz Search Engine Ranking Factors study show that off page SEO factors carry more than 50% of the ranking factor weight?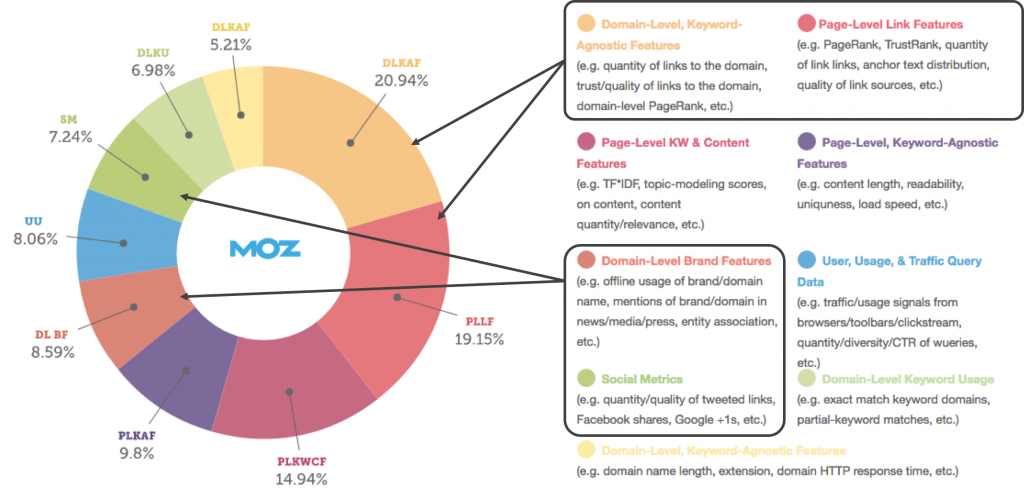 So how do you get more search traffic? To get more visitors from search engines to your site, you need to get first page rankings.
To get first page rankings on Google search, you need ONE major thing i.e off page SEO.
What is off page SEO anyway?
"Off-Page SEO" simply means all the things that you do away from your website to increase the rankings your website in search engines like Google.
SEO can be divided into 2 major categories;
On page SEO
Off page SEO
On page SEO is what happens within your website whereas off page SEO happens outside your website.
To put it simply, on page search engine optimization includes things like;
Keyword research and analysis
Content and image optimization
Site speed
Page titles, meta description etc
And..
Off page search engine optimization include things like;
writing a guest post for another blog
leaving blog comments
Promoting your blog on Facebook, twitter etc
Are you getting me?
Off page SEO is more important than on page SEO. If you want to build a high traffic website like Neil Patel, don't ignore off page SEO.
Let's now talk about some of the proven off page SEO techniques that you can use to boost your search rankings really quickly.
10 Most Effective Off Page SEO Techniques That Make Wonders In 2023
Quick note: Before jumping into the details of best off page SEO activities, I want to clarify you one thing: off page SEO is mostly about backlinks. The more backlinks you attract to your site, the faster you can increase your search traffic. So let's begin with few most effective off page SEO strategies.
1. Find your competitors' lost backlinks links
I want to tell you a truth: I personally use a "less known yet most powerful SEO strategy" on my clients' websites to boost their search traffic and backlinks.
Do you know what that is? Read on to find it out within a moment.
Whether you know it or not, backlinks are one of the top Google ranking factors.
Google literally considers backlinks as "votes". The more votes your website get, the easier it is for you to get top rankings.
Although there are a ton of link building strategies out there but I'll discuss with you a proven strategy that helps you easily attract more links to your site.
Find out your competitor's lost backlinks.
Why should you spy on your competitors' lost backlinks?
There are so many reasons which include;
It is the easiest way to find content that's worth linking to
The fastest way to attract dofollow links
It just works!
That being said, how can you find your competitors' lost backlinks? Let's discuss about it now.
How to find lost backlinks of other websites so you can cash in?
For this, you need an SEO tool like SEMrush (here's a free trial of SEMrush). Then just follow the simple steps mentioned below.
Step 1: Type your domain into SEMrush "Backlinks report" and enter any of your competitors' URL.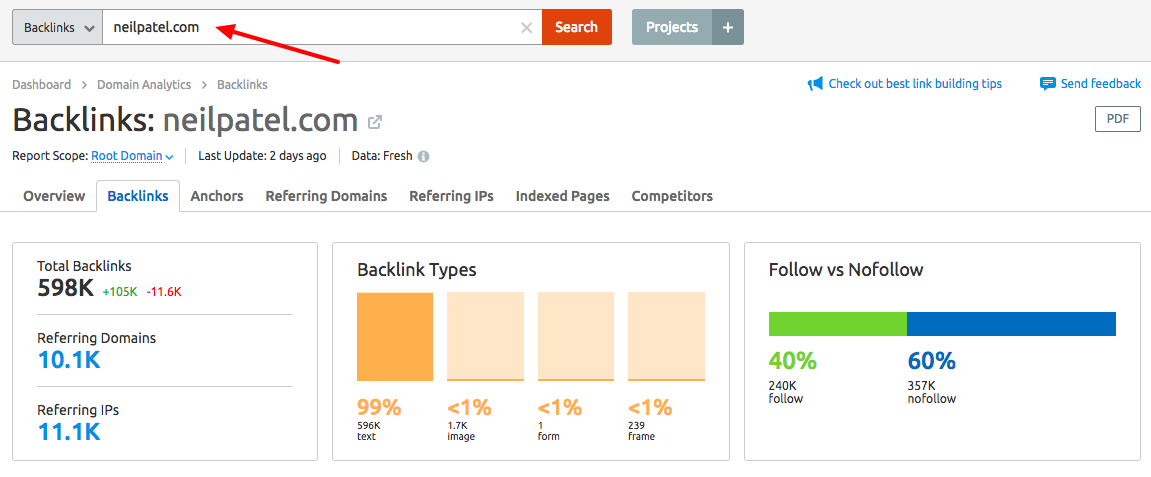 In this example, I entered NeilPatel.com (it's a high traffic website indeed with a ton of backlinks).
Step 2: Now, choose the filter "Lost" backlinks and as an option pick only the "Follow" type to check the most valuable ones first.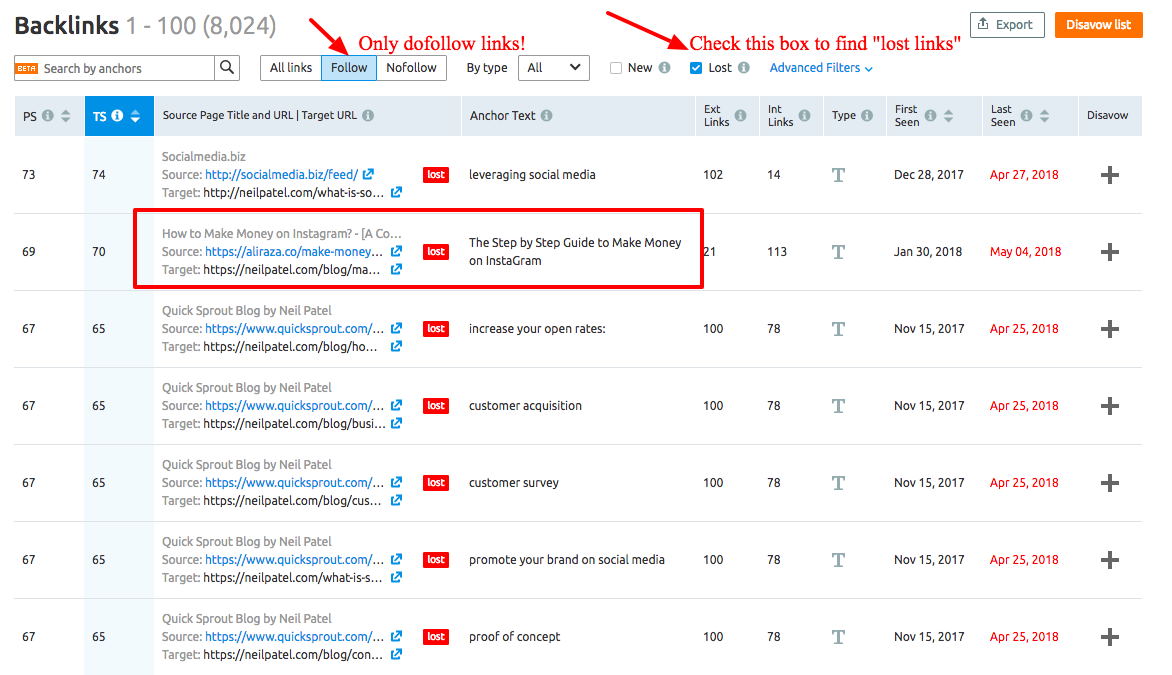 In the above illustration, you can see that, NeilPatel.com recently lost a link from a trustworthy domain (which is aliraza.co) on the topic "making money on Instagram".
Now here comes the fun part which leads me to the 3rd and final step.
Step 3: Once you've found "lost backlinks" of your competitors', it's time for you to create epic content around the topic where your competitors' lost their links and simply reach out the sites and propose to put a backlink on your topic-related content.
In the above example, you can create an in-depth engaging content around how one can make money from Instagram and reach out to the site owner of aliraza.co to propose your latest blog post's link.
That's how you can get the most out of competitors' lost backlinks. That's how I help my clients' to rank their websites higher in Google search and it works like a charm.
Just make sure to give a try to SEMrush as it turns out to be one of the most effective SEO tools I've ever used in my 7 years of blogging career.
2. Guest posting is 10 times better than creating new content on your own site
Do you find the above mentioned strategy a bit difficult? Okay, no problem. Let me tell you an easy method of building backlinks to your site: start writing guest posts for other blogs.
Guest posting is nothing new and it's one of the most effective ways to;
Build backlinks
Build relationships with other bloggers
Get more traffic to your sites and so on
How to get started with guest posting?
Here's a simple step by step process you can use to write guest posts effectively.
Step 1: Make a list of relevant sites in your industry
Do a simple search on Google using search strings such as;
"Submit guest posts + marketing" (replace marketing with your industry)
"Write for us + marketing"
"Become a contributor + marketing"
You can also simply Google the keyword phrases such as "best guest posting sites", "top sites to write guest posts" etc to find a list of various sites that include a ton of guest posting sites to work on.
Step 2: Target few sites and read the guest posting guidelines
Once you're done with the first step of finding guest posting sites, it's time for you to select few sites according to your choice (go from easy to hard, which means, consider those sites where you can easily publish your guest posts, this gives you enough confidence and momentum to continue).
Then, you can move on to bigger and better sites using better email pitches by linking to your previous guest posts.
Make sure to read the guest posting guidelines so you'll know what type of content goes well on their sites.
Step 3: Start writing your guest posts and build relationships with the bloggers
Before you submit a guest post on any site, it's always better to build relationships with the blog owners. This makes it easier for you to consider your guest posting requests.
You can do these things to build relationships;
Leave comments
Link to their blog posts
Interact with them on social media and so on
Step 4: Submit your guest posts and promote like anything
The final step is to reach out to the blogs where you want to publish your guest posts and ask them for feedback. If they like it, they will either publish or schedule according to their blog posting frequency.
Once your guest posts go live, promote as much as you can on social media and also respond to each and every comment to pull those audience to your sites.
If they don't like it, either send it to other blogs in your list or publish it on your own blog. Either way, you're not wasting time with your guest posts!
Quick tip: Make sure to follow up the bloggers after 3 to 4 days of sending your first email. You'll tend to get more replies only when you follow up!
3. Nail the skyscraper technique
Brian Dean, the SEO expert and the guy behind Backlinko had coined the term "The Skyscraper technique".
Although there are mixed reviews and discussions about skyscraper technique on the blogosphere but it is definitely one of the best off page SEO techniques you can try.
So what is the skyscraper technique anyway?
Finding top performing content in your industry to make it even more better to attract links and buzz is what skyscraper technique is all about.
Brian Dean says, skyscraper technique involves in 3 simple steps;
Step 1: Find link worthy content
Step 2: Make that content 10 times better
Step 3: Reach out to the right people
I made an exclusive (took me a ton of time though) illustration of skyscraper technique.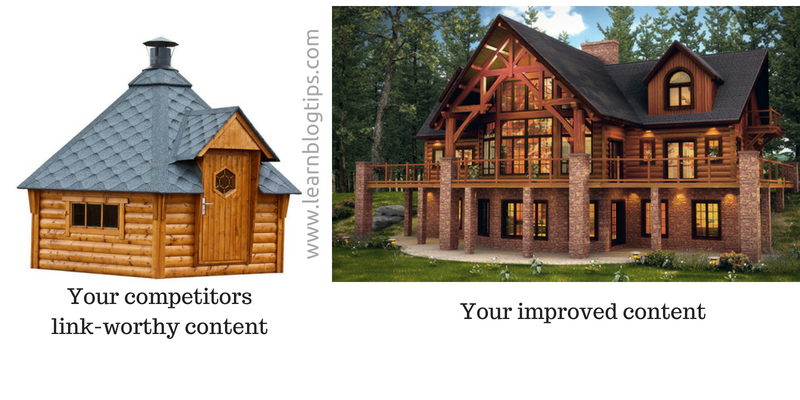 How to use the skyscraper technique?
Here's how you can use the skyscraper technique as an effective off page SEO strategy.
Step 1: Find link worthy content
You can use tools like Buzzsumo or SEMrush (grab SEMrush free trial) to find top performing content in your industry. Just enter any topic of your choice and these tools help you find the trending topics in your industry.
Step 2: Make that content 10 times better
Create 10x content around it. Content is king, right?
Step 3: Reach out to the right people
Now, reach out to the people who are tweeted and linked to the stuff you found in the step 1. That's how you get more buzz for your 10x content.
4. Build relationships with other bloggers
Off page SEO activities are incomplete without building relationships with other bloggers in your industry.
Bloggers can be excellent resources for promoting your blog. They can instantly turn your ghost town blog into a high traffic website by linking or sharing your content.
Networking = Success
That's the truth.
How to build relationships with popular bloggers?
Although there are a ton of ways to network with other bloggers but here's what works really well no matter what industry you are in.
Give, give, give, give, give before you ask.
Want more social shares? Share their content first.
Want more backlinks? Link out to other bloggers first.
Want more blog comments? Start commenting on other blogs.
The secret to building strong relationships with any blogger is to offer them help. So don't seek help. Give, give, give and give before you ask for a favour. That said, if you really want to increase your search engine traffic, you need to implement the best off page SEO techniques in 2023 and beyond.
5. Actively contribute on Q & A platforms like Quora
I love Quora. I'm an active contributor on Quora.
I even got over 600,000 views on my answers on Quora (mostly related to blogging and life advice). Here's the screenshot of my Quora profile.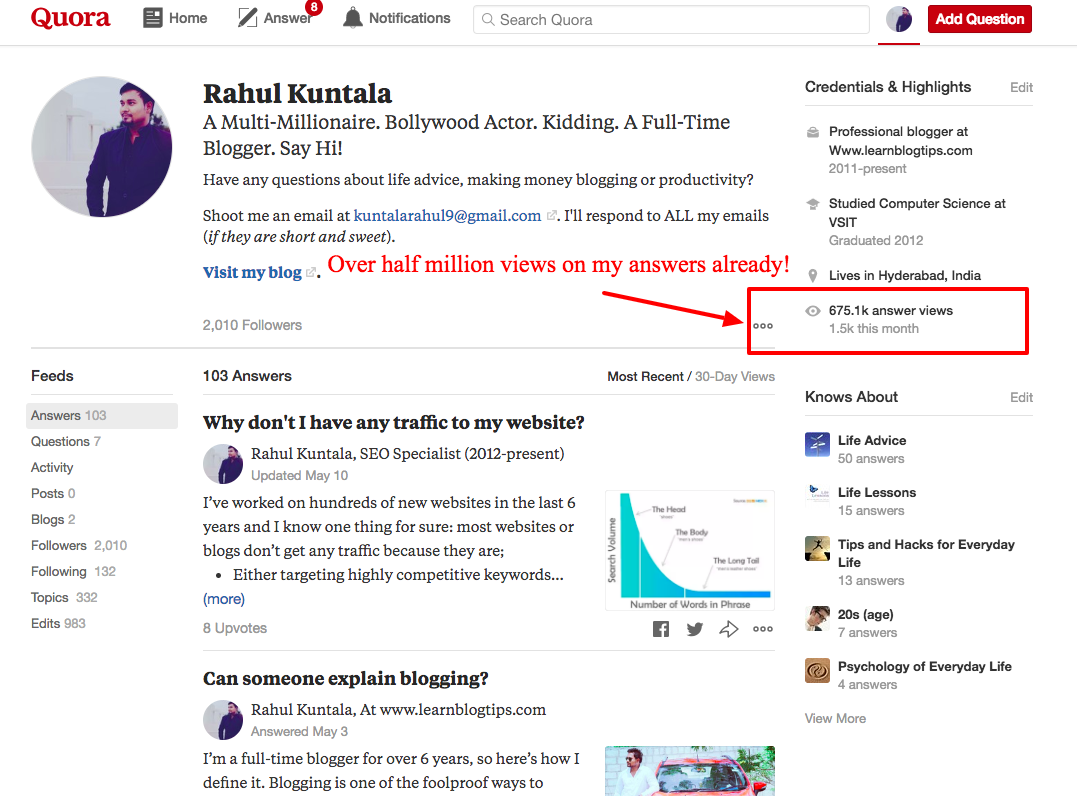 That's a lot of exposure, right?
You bet.
In case if you already don't know, Quora is the world's biggest Q & A platform where millions of users write great answers and post questions in almost every topic under the sun.
The great thing about using Quora is, you can promote your blog posts really easily and if they are performing well, you can bring a ton of visitors from Quora to your sites.
How to use Quora for blogging?
Here are few things you need to do first before you use Quora for blogging.
Create a profile (it's free to signup, you can even use your Facebook details)
Pick the questions and provide best answers
Follow the active users
Start following the topics that are relevant to your website. You can find thousands of topics no matter what industry you are in.
Then, answer the questions that you are comfortable with.
Make sure to link back to your blog posts (if they are relevant) while writing answers on Quora. The key here is to focus on providing informative answers instead of self-promotion.
That way you can attract a ton of views on your answers which can turn into upvotes, comments and even people start clicking on your links to visit your website.
6. Leave gigantic comments on other blogs
One of the easiest off page SEO activities is to comment on other blogs using your recently published blog post links.
The biggest mistake most people make while leaving blog comments is this: they use generic words like "great posts, thanks for sharing" etc.
Do you really think that kind of blog comments get you any traction? No way!
But what if you leave a gigantic comment on a blog post that you find interesting?
I'll tell you a case study of my own blog comments.
How to write comments that get you "dofollow" backlinks?
Recently I left a thoughtful comment on one of Ryan Biddulph's guest posts on BloggingTips.com
Ryan felt so happy to read that comment and even wrote a blog post around it by linking to my site.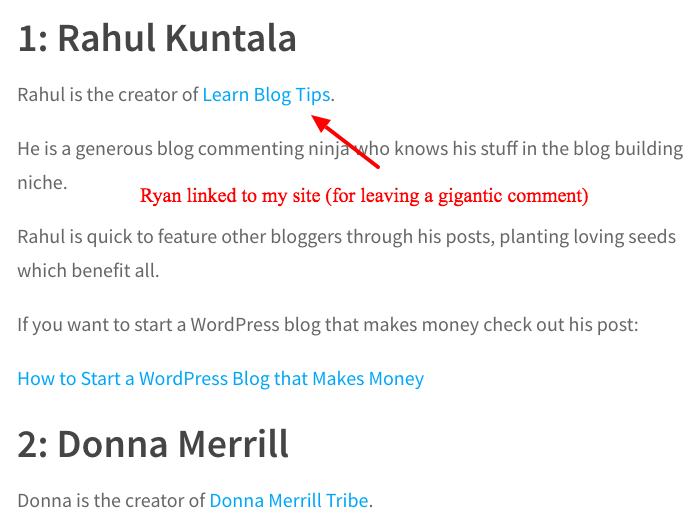 Did I expect a link? Seriously no.
Can you get that sort of exclusive treatment if you leave a one liner generic comment? Hell no.
That's the reason why you should be leaving thoughtful and detailed comments whenever you come across an informative blog post. It's worth your time and most bloggers even link back to your site as a token of appreciation (just like Ryan did!).
P.S: In case if you're wondering what comment I left, read this post by Ryan.
7. Submit your latest posts on high PR social bookmarking sites
Do you know the fastest way to promote your blog that also gets you links?
Social bookmarking.
Yes, social bookmarking is not dead and it is one of the proven off page SEO techniques to build links and create buzz around your blog.
Social bookmarking simply means sharing your latest blog posts on various sites like;
Reddit
Stumbleupon
Scoop.it
Pinterest
Folkd
Diigo
All the above social bookmarking sites have high DA (Domain Authority) which means whenever you submit your latest posts across these sites, they not only help you quickly index your content on Google but also give better backlink profile to your site.
The best part about using social bookmarking sites is that besides sharing your content, you can also use these sites to communicate with other bloggers to expand the popularity of your blog or website.
8. Promote your blog on social media
Every single day thousands of websites pop up.
The sad truth is, majority of them don't even get indexed on Google search. Forget about getting traffic and sales to those sites.
But you can use social media sites to get noticed even if you're running a new website.
How to use social media sites to promote your blog effectively?
Create social media profiles for your website
Make sure to create social media accounts for your website including;
Facebook
Twitter
LinkedIn
Instagram and so on
If possible, try to use the same names that resonate with your website or domain name.
Join groups on Facebook
You can literally find hundreds of Facebook groups to promote your website no matter what industry you are in. All you need to do is to use Facebook search function effectively to find relevant groups to join. Almost all of them are free to join, introduce yourself and actively participate on the groups to effectively promote your content.
Engage on twitter
Find trending hashtags on Twitter which are relevant to the blog topics that you post. Engage in the comments and try to promote your blog whenever possible.
9. Use forums to promote your blog
If you're a beginner and looking for the proven off page SEO activities for 2023, you should definitely consider participating in forums.
There are a ton of forums online (which are mostly free) where you can take your blog to the next level.
Forums are great for 3 reasons;
Promote your blog
Engage with other bloggers and
Learn new stuff
Here's a list of quality forums where you can promote your blog and interact with other bloggers.
Growth­Hack­ers.com
Inbound.org
Digital point Forum
Site Point Forum
Warrior Forum
FileZilla Forum
10. Repurpose your content
"Write less and promote more" is often a good blogging advice.
But how can you do it? By repurposing your blog's content.
Repurposing your blog content simply means converting your one form of content into several forms of content such as;
Infographics
Videos
Podcasts
Slideshare
For example, if you've written a detailed guide on how to make money from a new blog, you can consider creating an infographic around it or a do a video explaining how people can make money from new sites and upload it to YouTube for more promotion. Or you can even use that content to create slides and upload them for free on Slideshare or create a podcast.
You now get the idea.
Just go and try different mediums to repurpose your blog content.
Conclusion about the top 10 off SEO techniques for 2023
Off page search engine optimisation is all about how well you promote your website. The more you promote your blog's content, the better the results. It's as simple as that.
Which of the off SEO techniques have been the most effective for you in getting more traffic to your site?